JoEllen
All hail the Queen of Cake.
I am so in love with all of you globe people, sometimes I just sit and ponder the javanated wonder of it all…
There may be some days when you just want more more more JoEllen, and if that day is a Friday you can tune into WMNF 88.5 FM (on line you can listen live at wmnf.org/listen) between 1:05 and 2:00p.m. EST, and hear my show Art in Your Ear. It is a goofy arts interview and review show, with some tastalicious music.
thanks so much and thanks mucho much for supporting the Globe.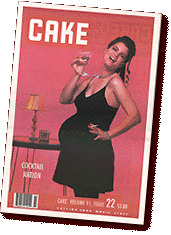 what I am listening to: Flaming Lips, all sorts of Bossa Nova, Gnarls (just like everyone else in the world!), Cibelle.
what I am watching: very old walt disney cartoons, a yoga dvd, trying to get all motivated, Daniel Johnston movie.
what I am reading: A widow for one year; sarah durant novels, Libra, cookbooks.
and I am trying to write letters to people, and failing miserable. Do I get points for trying?